Li.Le
Georgia, 2017, 9 min, 2D
Directors: Natia Nikolashvili
Producers: Vladimer Katcharava
Synopsis: In the magic forest it is dark and cold; the fog so thick that not a single ray of sunlight shines through. The plants are withered and the lakes frozen, with nothing stirring anymore. A lone girl and a deer are wandering through this icy landscape. What are they looking for? We created a fantastical world as backdrop for a tale as fascinating and enigmatic as a dream, in atmospheric water color.
Weird
Bulgaria, Italy, 2017, 2 min, 2D
Directors: Fausto Montanari
Producers: Lobster
Synopsis: The short film "Weird" is a monologue about diversity. It is a scream of a girl, used to be judged as weird and different. In the film she gives voice to her sufferance and her dreams to delete this concept of weirdness. She thinks that in the end weirdness is only a point of view and we are all the same. But in some points of her monologue she falls in mistake to indicate something like Weird, because in the end Weirdness is nothing more than a personal perspective.
Deyzangeroo
Canada, 2017, 4 min, Mixed Media Under Camera Animation
Directors: Ehsan Gharib
Producers: Maral Mohammadian
Synopsis: "Deyzangeroo" is a ritual performed in the Iranian port city of Bushehr. Influenced by the city's colonial rule by the British and Portuguese, and the African slaves that followed, it is imbued with the terror and magic of the lunar eclipse. The ritual is believed to ward off evil spirits and take back the moon. It works every time.
Parking attendant
Argentina, Germany, 2017, 2 min, Drawing on paper
Directors: Dante Zaballa
Producers: Dante Zaballa
Synopsis: Cuidacoches is a song by Tall Juan dedicated to all those people who live in the street.
Before and After
Bulgaria, 2018, 12 min, Drawing on paper
Directors: Dobromir Dimitrov
Producers: Evelina Leshtarska
Synopsis: Somewhere in the big city, a little man loves to fit into the world of the beautiful. In his despair he undergoes a monster intervention. Things go out of control and his cherished dream turns into a nightmare. Turn your head off, turn on the TV.
Negative Space
France, 2017, 6 min, Puppets, Stop motion
Directors: Max Porter & Ru Kuwahata
Producers: Edwina Liard & Nidia Santiago, Jean-Louis Padis
Synopsis: My dad taught me how to pack.
The Fox
Iran, 2018, 10 min, 2D
Directors: Sadegh Javadi Nikjeh
Producers: Sadegh Javadi Nikjeh
Synopsis: A young fox on the verge of experiencing the first love got trapped by a hunter. The Hunter ties his dog collar bell on the fox's neck and leaves him in the wood. And then the fox begins his effort to survive and love and revenge.
The Hunt
France, 2017, 6 min, 2D
Directors: Alexey Alekseev
Producers: Yves Bouveret
Synopsis: The disappointments of a short-sighted and harmless hunter who took with him by mistake a rabbit instead of his dog to go hunting in the forest. No animal has been injured...
Untravel
Serbia and Montenegro, 2018, 10 min, Puppets
Directors: Ana Nedeljkovic, Nikola Majdak Jr.
Producers: Jelena Mitrovic
Synopsis: A film about (local) patriotism, tourism and emigration. The girl lives in a gray, isolated country, enclosed by a huge wall. She has never travelled anywhere, but all her life she has dreamt of leaving forever for a perfect world called "Abroad".
A blink of an eye
Germany, 2018, 4 min, 2D
Directors: Kiana Naghshineh
Producers: Kiana Naghshineh
Synopsis: A woman walks home at night. She is overwhelmed from behind by a stranger. He grabs her and tries to rip off her clothes. They fight. The point of view switches between man and woman. Reality and fears blur into each other.
Between the Lines
Russia, 2017, 5 min, 2D
Directors: Maria Koneva
Producers: Vadim Pegasov
Synopsis: A Zebra finds she is completely alone in a world where everyone has a partner. So she searches for her love, despairs but finally finds another Zebra. These two match each other perfectly in their abstract love dance.
Ballsy: Story Of A Revolution
Iran, 2018, 6 min, 2D
Directors: Seyed Mohsen Pourmohseni Shakib
Producers: Seyed Mohsen Pourmohseni Shakib
Synopsis: The story of two chickens which live in a cage. They are fed by a hand. Due to lack of food, chickens strike against the hand and achieve their own freedom, but they can't go out of the cage, whereas there is no hand to feed them.
Happiness
Bulgaria, 2018, 6 min, Drawing on paper, 2D, Other
Directors: Dimitar Dimitrov
Producers: Neli Gacharova
Synopsis: "A film about the crushing power of the ordinary, everyday life, which inevitably devours the dreams, the love, and the belief in the extraordinary. A life which means death to the artist."
Embraced
Canada, France, 2018, 6 min, Pin Screen
Directors: Justine Vuylsteker
Producers: Rafael Soatto, Julie Roy
Synopsis: Standing still in front of the open window, a woman stares at the dark clouds that obscure the sky. Immobile, she fights against the remembrances of the past. In the clouds, a passionate embrace appears.
Simbiosis Carnal
Belgium, 2017, 10 min, 2D
Directors: Rocio Alvarez
Producers: Zorobabel, Camera-etc
Synopsis: A poetic journey through the history of desire and sexuality, from the first unicellular organism to human being, who invents the calculated pleasure: eroticism. A story crossed by moral conflicts, where the female pleasure long ignored and repressed takes pride of place, and which culminates in an explosive finale.
Lost Circle
Iran, 2018, 2 min, Drawing on paper
Directors: Farhad Najafi Fard
Producers: IYCS
Synopsis: In a battlefield, soldiers are putting mines everywhere. They are under control by the commender. After some while, everywhere covered by mines and soldiers find out theу are besieged.
Railment
Japan, 2017, 9 min, Drawing on paper, Watercolor, Stop motion, Other
Directors: Shunsako Hayashi
Producers: Shunsako Hayashi
Synopsis: In a continuous scenery, his physical movement stays in the same position. The speed of the continuity and his movement have accelerated and gradually cause a distortion.
Raymonde or the vertical escape
France, 2018, 16 min, Puppets, 2D, Stop motion
Directors: Sarah Van Den Boom
Producers: Richard Van Den Boom, Jean-Francois Bigot
Synopsis: Raymonde is really fed up with peas, aphids, dirty panties and her kitchen garden to dig. After all, she would prefer sex, and love, and the immensity of the sky...
The Cave
Italy, 2017, 2 min, 2D
Directors: Hello Savants
Producers: Hello Savants
Synopsis: La Caverna is an self-initiated project. A 2d animation inspired by Plato's "Allegory of the Cave" and surrealism; both a quest for the truth and the acceptance of the illusion we live in.
The Theory Of Sunset
Russia, 2017, 9 min, 2D
Directors: Roman Sokolov
Producers: Ilia Popov
Synopsis: Deep at night, a dedicated cyclist traverses the wintry forest. The challenge: make sure this new day gets off to a fresh and timely start.
Winds of Spring
Canada, 2017, 6 min, 2D
Directors: Keyu Chen
Producers: Marc Bertrand
Synopsis: Unfolding with the rhythm of the seasons, Winds of Spring tells the tender story of a young girl who, driven by the irrepressible need for self-fulfillment, decides to leave the family nest. Keyu Chen employs her signature style of fluid transitions and fine, spare lines inspired by Chinese ink painting in her delicately crafted first film.
I'm sorry I'm pathetic
South Korea, 2017, 1 min, 2D
Directors: JANG Nari
Synopsis: A woman works at her desk day after day, causing her neck to become bent. Her mother is unhappy with her although she isn't sure what her daughter is doing. The daughter feels guilty for being a burden and is unable to raise her head.
Yellow
Slovakia, 2017, 7 min, 2D
Directors: Ivana Sebestova
Producers: Katarina Kerekesova, Ivana Laučíková
Synopsis: Yellow is a short animated film telling а metaphoric story of а young opera singer Viola. Scared of everything yellow, sunny and spontaneous, she hides herself in sad violet shadows. Will she find her way to happiness?
Lystfiskeren
France, 2018, 11 min, Stop motion
Directors: Sara Aunbirk
Producers: The Open Workshop
Synopsis: A dream about a man, a boat and the fish he is in love with.
Manimals
South Korea, 2017, 5 min, 2D
Directors: OH Ji-hyeon
Synopsis: A woman remembers her former boyfriends as animals.
The Big Cockroach
Russia, 2018, 9 min, Drawing, Stop motion, 2D
Directors: Sonia Melamud
Producers: Alexander Getasimov
Synopsis: The world of this film is a beautiful music machine. Everyone has to take his place and play music according to the conductors plan. But no plan can work forever. It is impossible to play beautiful music without a conductor and without a plan. But it is impossible to leave with a conductor, who can't change the plan under any circumstances...
LINK
Germany, 2017, 7 min, 2D
Directors: Robert Löbel
Producers: Robert Löbel
Synopsis: Two characters are linked by their hair. They influence each other by every move they make.
Cyclists
Croatia, France, 2018, 7 min, 2D
Directors: Veljko Popovic
Producers: Milivoj Popovic, Veljko Popovic, Patrick Hernandez, Lado Skorin
Synopsis: The cycling season is nearing its grand finale. During the final race, the two men in the lead are competing for more than the Grand Trophy; they are fighting for the affection of a lady and fulfillment of their erotic fantasies. Meanwhile, the small port town prepares for the arrival of a large ocean liner and its dashing captain.
Tweet-Tweet
Russia, 2018, 11 min, 3D
Directors: Zhanna Bekmambetova
Producers: Alexander Gorokhov
Synopsis: Our life is like walking on a tightrope. In times we are scared or lost we lose balance. When we are happy and excited, we forget we walk on a rope. We can even fly! Main characters are girl Luba and her friend Sparrow. Silly Sparrow doesn't know fear. By playing with him Luba forgets her she is on a rope.
Nocturne 
Germany, 2016, 5 min, Puppets
Directors: Anne Breymann
Producers: Anne Breymann
Synopsis: At night the forest creatures gather to gamble, putting their innermost at stake.
DREAMLAND
France, 2017, 4 min, Drawing on paper
Directors: Mirai Mizue
Producers: Tamaki Okamoto
Synopsis: Dreamland will never be completed. It will continue to grow as long as there is imagination left in the world.
The Gap
Belgium, Netherlands, 2016, 15 min, 3D
Directors: Patrick Vandebroeck
Producers: Marco Levantaci, Marc Thelosen
Synopsis: Man is a cubical shaped figure who rectifies all bumps and humps in order to keep his desolate world flat. His confrontation with a little red ball, that loves to create gigantic holes, messes up his ideal of a perfect straight world.
The First Thunder
Russia, 2017, 5 min, 2D
Directors: Anastasia Melikhova
Producers: Irina Volodina, Valentina Khizhniakova
Synopsis: It is a musical fantasy about the awakening of nature and the character from winter hibernation, about the way out of its own "world" into a world which is full of beauty and adventures.
Edge of Alchemy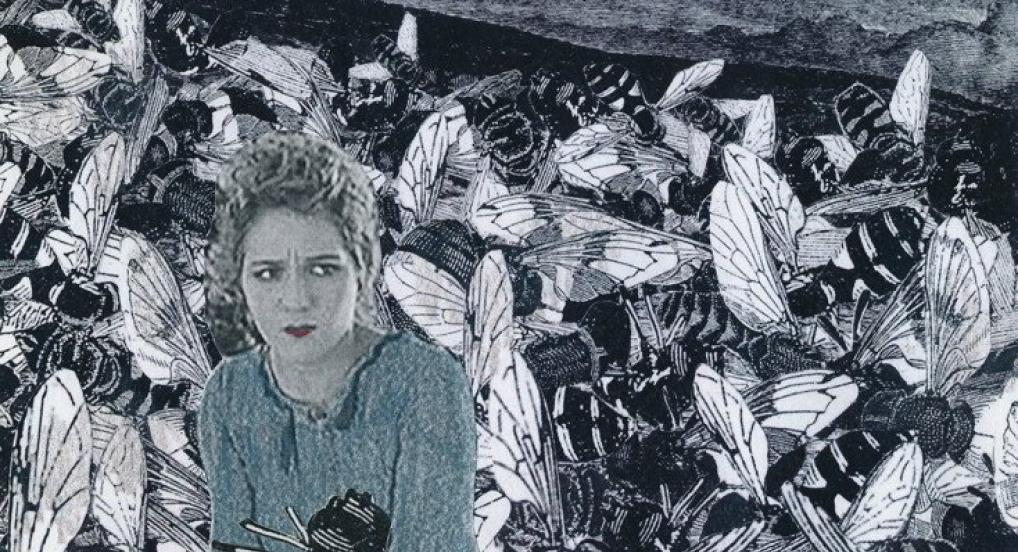 United States, 2017, 19 min, Cut-outs
Directors: Stacey Steers
Producers: Stacey Steers
Synopsis: Mary Pickford and Janet Gaynor, delicately lifted from their early silent films, are cast into a surreal epic with an upending of the Frankenstein story and a contemporary undercurrent of hive collapse. Edge of Alchemy is the third film in a trilogy examining women's inner worlds. Music by the Polish composer Lech Jankowski (Brothers Quay).
Persistence of Vision III
Norway, 2017, 1 min, Pixilation
Directors: Ismael Sans-Pena
Producers: Ismael Sans-Pena
Synopsis: A short animated film made from just one image exploring the moving potential of the still sculptures at the facade of Nidaros Cathedral in Trondheim, Norway.
Ugly Fairy Tale
Bulgaria, 2018, 10 min, Handmade embroidery
Directors: Radostina Neykova
Producers: Hristo Hristov
Synopsis: Innovation handmade embroidery. Man and Woman spend their days in pointless arguments. One day their little House is fed up with their never ending quarrels and runs away.
Tend
United Kingdom, 2018, 8 min, 2D
Directors: Tom Judd, Ed Barrett
Producers: Laura Darby
Synopsis: Tend tells the story of a man and his daughter living peacefully in the forest, until one day their familiar routine begins to fall apart. As the father struggles to keep the fire burning, he loses sight of what's truly important – and spirals into an obsession with the flames.
ROBHOT
France, 2017, 6 min, 2D
Directors: Donato Sansone
Producers: Nicolas Schmerkin
Synopsis: An ordinary domestic dispute turns into an organic and surrealist fight opposing two humanoid robots.
Touch
Bulgaria, 2018, 7 min, 2D
Directors: Velislav Kazakov
Producers:  Nastimir Tzatchev
Synopsis: The solution in its conclusion, the perpetual Circle of Life. Eternal stalking and hitting. Yet it takes an Artist to arrange the Nature's harmony.